Welcome to Freedom 1040
flie with our tax pro
Get expert tax prep virtually or in person. Gather your documents and your tax pro will do the rest.
TAXPAYER ADVANCE LOANS
We've originated over $1 billion in taxpayer advances! e-Advance gives clients a no cost loan option while eliminating in-season ERO marketing fees. This is a smart way to help clients pay expenses and meet financial obligations so they don't have to wait for their refund to become available.1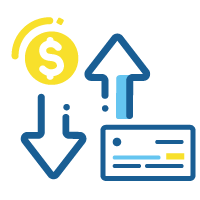 No-cost Advance Loans of $250, $500, and $1000
36% APR on loans between $1,250 and $6,000
High approval rates
Pre-acknowledgement loans available Jan. 2
Pay nothing out of pocket with a Refund Transfer.
It's your money — keep it in your wallet where it belongs. , pay for tax prep and other related fees right from your tax refund payment. With filing costs out of the way, you'll enjoy the rest of your refund worry-free.
CHOOSE HOW YOU WANT TO RECEIVE YOUR FUNDS
The FasterMoney® Discover® Prepaid Card is a great option for clients who don't have a traditional bank account. A printed check from our office allows clients access to their money as soon as they cash it. Direct deposit is an easy and convenient way for you to receive your refund as soon as it's available.

Prepaid Card

Printed Check

Direct Deposit
Tax help you need and the biggest possible refund, guaranteed.
Max Refund Guarantee
Get every credit and deduction you deserve. Find a bigger refund somewhere else? Your tax prep is free.
Experienced tax pros
Our tax pros have an average of 10 years' experience. We're here for you when you need us.
Many ways to file
Get your taxes done by a tax pro in an office, via video, or by phone. Or do your own with expert, on-demand help.
Upfront transparent pricing
Know the price of tax prep before you begin as part of our No Surprise Guarantee.
Learn More